Commemorating over 20 years of partnership, violinist Robert McDuffie and pianist Robert Spano jubilantly take the stage to celebrate the work of Beethoven, Brahms and legendary American contemporary composer, John Corigliano.
Spano is excited to step off the podium and sit down at the piano following his transformative 20–year tenure as music director at the Atlanta Symphony Orchestra. Both performers have profoundly advocated for American music in concert halls throughout their careers, and are thrilled to continue their passion for contemporary, romantic, and classical music alike together on this one of a kind recital tour.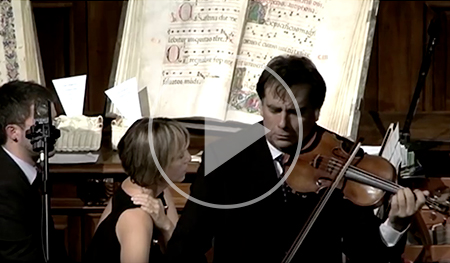 Robert McDuffie, violin - Jay Ungar, Ashokan Farewell Live in Biblioteca Angelica , Rome 2011
---
Artist Bios ⇒
Robert McDuffie
Grammy-nominated violinist Robert McDuffie enjoys a dynamic and multi-faceted career. While appearing as soloist with the world's foremost orchestras on five continents, he has also shared the stage with Rolling Stones pianist Chuck Leavell and the late Gregg Allman in "Midnight Rider", and with actress and playwright Anna Deavere Smith in Martin Luther King's "Letter from Birmingham Jail". Philip Glass dedicated his Second Violin Concerto, "The American Four Seasons", to Mr. McDuffie. Read More ››
Robert Spano
Robert Spano, conductor, pianist, composer, and teacher, is known worldwide for the intensity of his artistry and distinctive communicative abilities, creating a sense of inclusion and warmth among musicians and audiences that is unique among American orchestras. Read More ››
---
Concert Program ⇒
Concert Program coming soon.