Internationally acclaimed flutist, saxophone player, and pianist Jane Bunnett joins Maqueque for an exploration of how Afro-Cuban melodies express the universality of music. While Maqueque started out as a project to record and mentor young brilliant Cuban female musicians, in recent years, this award-winning ensemble has become one of the top groups on the North American jazz scene.
Five-time Juno Award winner, Jane Bunnett has turned her bands and recordings into showcases for the finest musical talent from Canada, the US, and Cuba. She has been nominated for three Grammy Awards, received The Order of Canada, The Queen's Diamond Jubilee Medal, and, most recently, The Premier's Award for Excellence.
With Maqueque, Bunnett has created something new and phenomenal in the world of jazz. In the last year, they have played in major jazz festivals like Newport and Monterey, been featured on NPR's program Jazz Night in America, were nominated for a Grammy Award for their newest release, Oddara, and, most recently, were voted as one the top ten jazz groups by the prestigious DownBeat magazine's critics poll.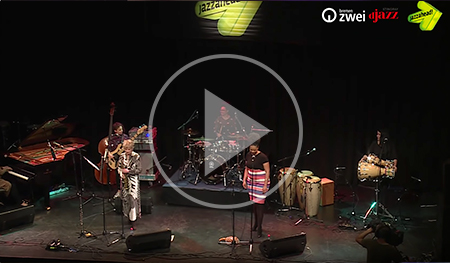 Jane Bunnett & Maqueque - Jazzahead! 2019
---
Artist Bios ⇒
An internationally acclaimed musician, Bunnett is known for her creative integrity, improvisational daring, and courageous artistry. Her exploration of Afro-Cuban melodies expresses the universality of music, and her ability to embrace and showcase the rhythms and culture of Cuba has been ground-breaking. She has toured the world bringing her own special sound to numerous jazz festivals, displaying her versatility as a flutist, saxophone player, and pianist.
Maqueque are: Jane Bunnett, soprano saxophone & flute; Dánae Olano, piano & vocala; Tailin Marrero, acoustic & electric bass, and vocals; Yissy García, drums; Mary Paz Fernández, percussion & vocals; Joanna Majoko, vocals
---
Concert Program ⇒
The Concert Program is Coming Soon