Praised as "the soul of the Spanish guitar," Pablo Sáinz Villegas has become a worldwide sensation known as this generation's great classical guitarist. With his "virtuosic playing characterized by irresistible exuberance" as described by the New York Times, Sáinz Villegas thrives over a continuous search for innovative ways to inspire diverse communities of society. The evening begins with a solo program, then Sáinz Villegas is joined by versatile bassist Pedro Giraudo and master percussionist Nacho Arimany for Americano – a musical journey of song through the Americas.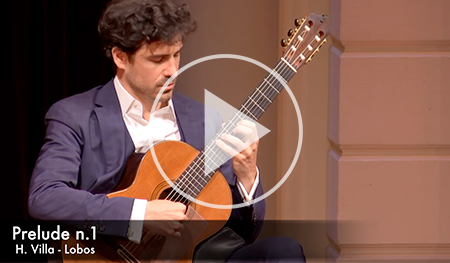 Villa-Lobos: Prelude 1 | Live from Concertgebouw. Pablo Sáinz Villegas
---
Artist Bios ⇒
Born in La Rioja in Northern Spain, Pablo Sáinz Villegas is known for his passionate, emotive and open-hearted style, whether he is performing at intimate recital halls or playing with Plácido Domingo to an audience of more than 85,000 at Santiago Bernabéu Stadium in Madrid. Routinely drawing comparisons with legendary exponents of his instrument such as Andrés Segovia, Sáinz Villegas has already appeared on some of the world's most prestigious stages including Carnegie Hall in New York, the Philharmonie in Berlin, and at the National Center for the Performing Arts in Beijing. Known for a sound so rich and full that it does not need amplification, his concerto performances regularly inspire new invitations and re-engagements in more than 30 countries. He has played with the world's top-level orchestras including the Pittsburgh, Bergen and Israel Philharmonics, as well as Cincinnati, Spanish National, and Boston Symphonies. He made a series of important debuts under the baton of Frühbeck de Burgos, and has enjoyed fruitful collaborations with conductors including Juanjo Mena, Miguel Harth-Bedoya, Carlos Kalmar, Gustavo Gimeno, and Cristian Macelaru.
Originally from Córdoba, Argentina, Pedro Giraudo is a Grammy Award-winning composer, conductor, and arranger whose collaborations range from tango to jazz and include such legendary artists as Pablo Ziegler and Branford Marsalis. He has conducted the world-renowned WDR Big Band and Cologne Contemporary Jazz Orchestra and played bass on dozens of albums for leading record labels around the world.
Nacho Arimany works as a producer, performer, and educator. Specializing in North African and flamenco rhythms, he performs internationally as a flamenco percussionist and has received critical acclaim for his work with flamenco greats Joaquín Cortés, Rocío Molina, and Rafaela Carrasco.
---
Concert Program ⇒
The concert program is coming soon.