Praised as "the soul of the Spanish guitar," Pablo Sáinz Villegas has become a worldwide sensation known as this generation's great classical guitarist. With his "virtuosic playing characterized by irresistible exuberance" as described by the New York Times, Sáinz Villegas thrives over a continuous search for innovative ways to inspire diverse communities of society. The evening begins with a solo program, then Sáinz Villegas is joined by versatile bassist Pedro Giraudo and master percussionist Nacho Arimany for Americano – a musical journey of song through the Americas.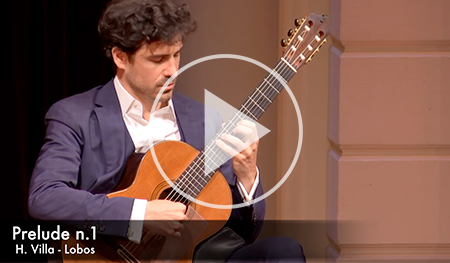 Villa-Lobos: Prelude 1 | Live from Concertgebouw. Pablo Sáinz Villegas
---
Artist Bios ⇒
Born in La Rioja in Northern Spain, Pablo Sáinz Villegas is known for a sound so rich and full that it does not need amplification, his concerto performances regularly inspire new invitations and re-engagements in more than 30 countries. He has played with the world's top-level orchestras including the Pittsburgh, Bergen and Israel Philharmonics, as well as Cincinnati, Spanish National, and Boston Symphonies. He made a series of important debuts under the baton of Frühbeck de Burgos, and has enjoyed fruitful collaborations with conductors including Juanjo Mena, Miguel Harth-Bedoya, Carlos Kalmar, Gustavo Gimeno, and Cristian Macelaru.
Originally from Córdoba, Argentina, Pedro Giraudo is a Grammy Award-winning composer, conductor, and arranger whose collaborations range from tango to jazz and include such legendary artists as Pablo Ziegler and Branford Marsalis. He has conducted the world-renowned WDR Big Band and Cologne Contemporary Jazz Orchestra and played bass on dozens of albums for leading record labels around the world.
Nacho Arimany works as a producer, performer, and educator. Specializing in North African and flamenco rhythms, he performs internationally as a flamenco percussionist and has received critical acclaim for his work with flamenco greats Joaquín Cortés, Rocío Molina, and Rafaela Carrasco.
---
Concert Program ⇒
The concert program is coming soon.